Most women like uggs to go out in winter because they are as fashionable as comfortable and keep your legs away from cold at the same moment. It seems almost everybody, from celebrities to schoolchildren, prefer wearing uggs during the winter to stay warm and cozy.
World In Leather has recently written how to choose uggs, and now it is time to get to know how to wear them. We share with you 6 tips which will help you to pick up a suitable outfit to go out with these winter boots.
1. Long pants will be a great choice
Uggs were created to wear during the cold weather, that's why it will be the best choice to combine this kind of boots with winter clothes such as long pants. Put on trendy jeans and tuck them into your uggs to get an awesome look. It is a good choice to wear uggs with blue, black, green or red skinny jeans, but, in this case, be sure to color coordinate with shoes. It is also permitted to put flared pants over a pair of uggs to make a graceful style.
2. Combine uggs with leggings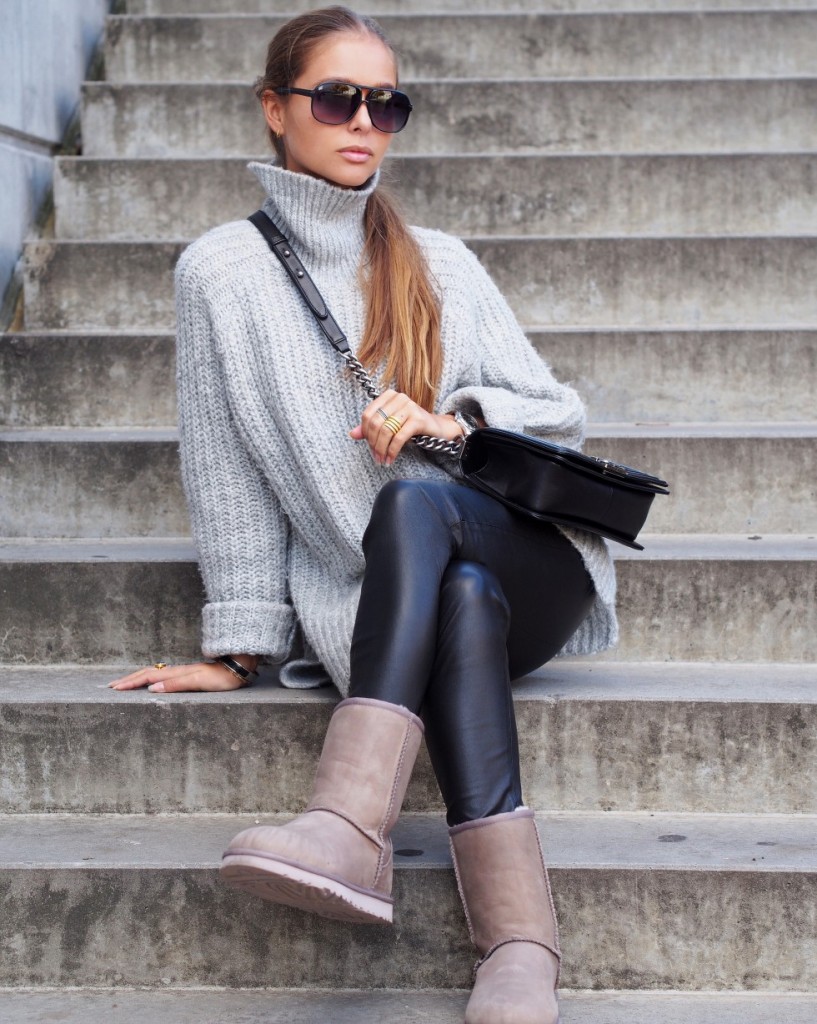 If you prefer to wear leggings instead of jeans or pants, you can combine uggs with this kind of clothes. To make an awesome classic look your winter boots could be combined with a pair of black or grey colored warm single shade leggings. For those who want to spice things up, it is allowed to wear patterned leggings. To complete your winter look put on a loose sweater or top.
3. Cute skirts and dresses are also allowed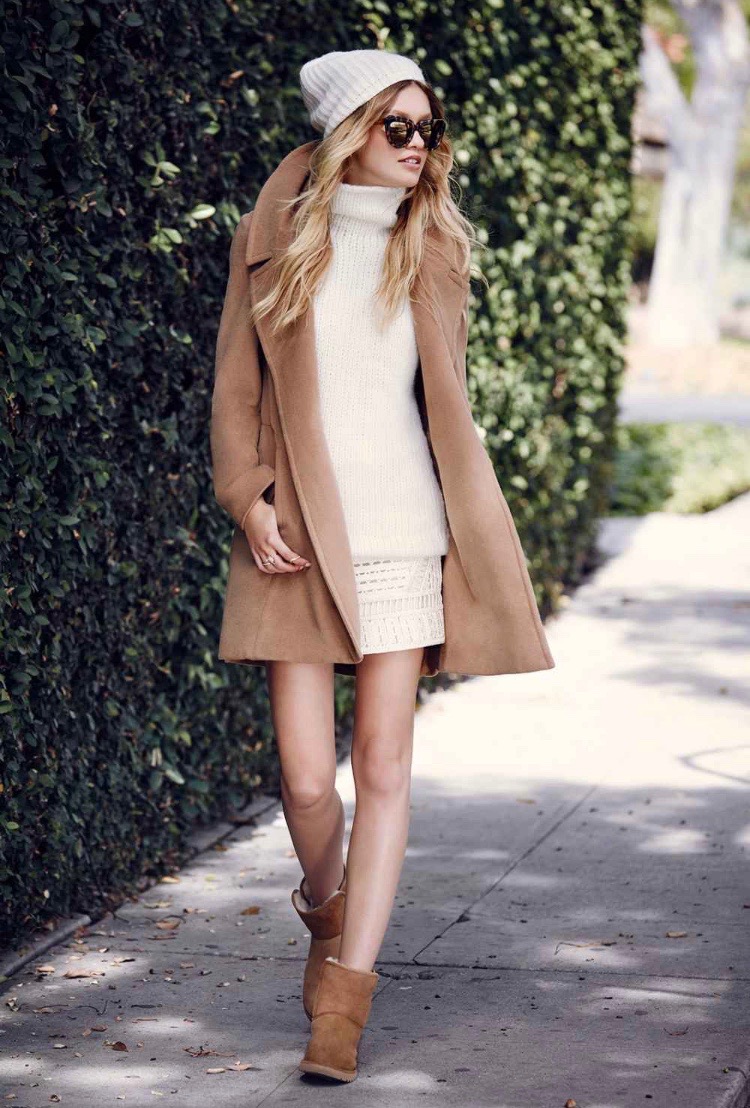 It is not recommended to wear uggs with ball gowns but you can easily choose a suitable casual winter dress to put on with these boots. You may go ahead and match blouse and skirt with your new uggs. Be sure your clothes are not formal because these winter shoes are not dedicated to wear with classic things.
4. Choose some fun accessories
Don't be afraid of wearing fun accessories in combination with uggs. You can throw on yourself a cute scarf to keep warm and look more fashionable. Also, you can complete your look with a help of necklace, long earrings, and winter hat.
5. Don't choose formal clothes to combine with ugg boots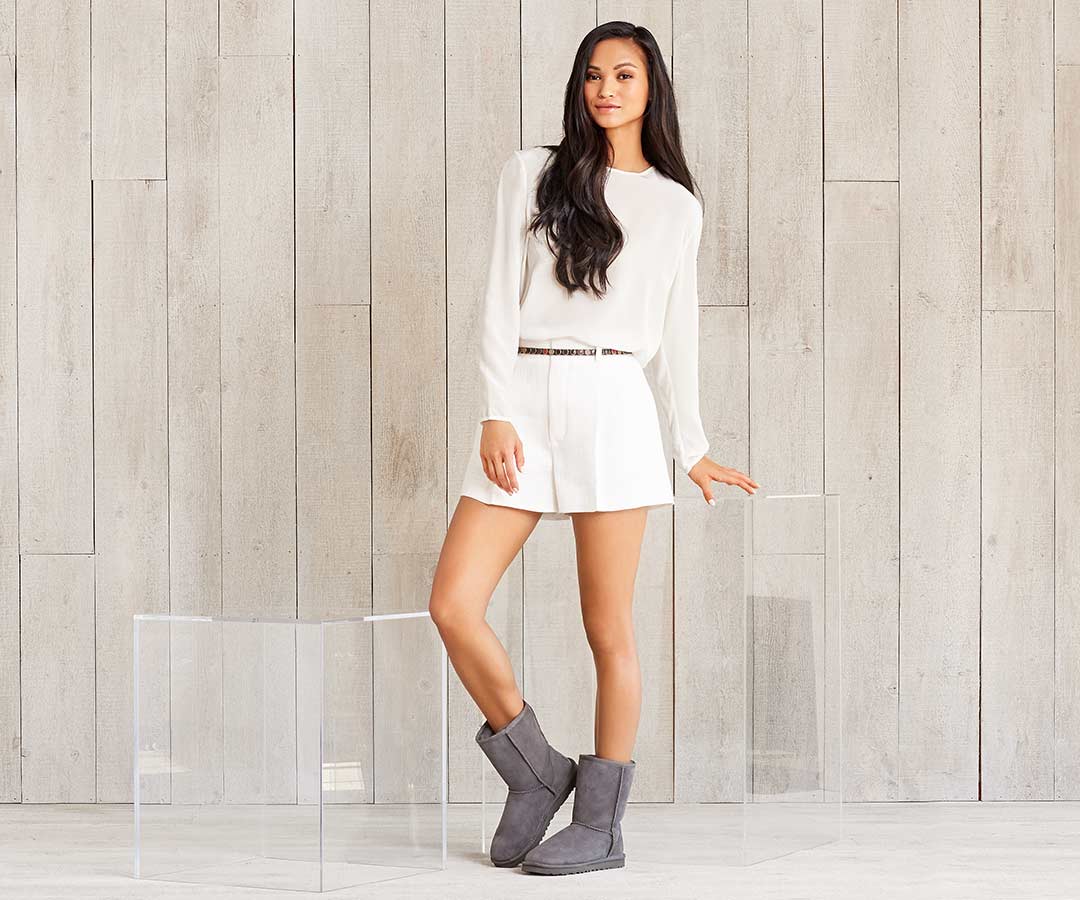 No matter how much you like uggs, they are meant to be casual shoes. That's why you shouldn't match this kind of boots with fancy clothing: at least, such combination will look unnatural and dowdily. Put on uggs with casual clothes if you are going to go outside with friends, visit university or workplace (of course, if dress code of your job permits wearing casual things).
6. Avoid wearing uggs in warm weather
Uggs are dedicated to protect your legs from cold, that's why most models have natural fur inside. Try not to wear them during the warm weather, because in this case you will look dowdily and ruin shoes with excess sweat.
Do you like uggs? How do you prefer to wear them? Share your opinion with us via comments below.